8 Hour SAFE Core and North Carolina Law MLO Package
The 8 hours of content in this course will fulfill all of the education needed to renew your North Carolina license.
This course is broken down into 5 modules. Each module contains:
A section of training
An activity in which students will read a short scenario and then answer questions about the scenario
An assessment that consists of a five question quiz
The first module of the course focuses on federal laws and rules that apply to mortgage loans and mortgage loan originators. The federal regulations addressed in this portion of the course include the SAFE Act and the TILA-RESPA rule.
The second module of the course will cover ethics and consumer protection. Aside from ethics and ethical duties, this portion of the course will also talk about fraud in mortgage lending and fair lending practices.
The third module of the course will discuss non-traditional mortgage loan products like adjustable rate mortgages and reverse mortgages. Not only will this segment examine these types of mortgages, it will also look at some of the regulations governing them.
The national portion of this course will end with a 25 question final exam designed to test students on concepts from across the course.
The North Carolina-specific segment of the course begins with an overview of the regulating authorities MLOs must answer to, and then jumps into the NC SAFE Act. First, we get acquainted with the mortgage loan originator, and see what an MLO is defined as, and what it is specifically not. Here, we also examine other types of loan originators, such as those with a transitional mortgage loan origination license.
Next, we look at the exemptions to licensure, and discuss seller financing. Though an MLO may not deal with seller financing themselves, it is important to understand how this lending tool functions.
Students then see the requirements for active licenses and registrations, which include the topic of employment and employer responsibilities. Here, we also discuss surety bonds, and their requirements.
The course ends with a discussion of some MLO requirements, such as the use of unique identifiers and display of license, and the prohibited acts MLOs are restricted from engaging in.
The class is completed with a final quiz consisting of 15 questions drawn from the state-specific content.
Show Course ID: 1
Course ID(s):

10749, 10784

Approved By:

NMLS
Instructor Bio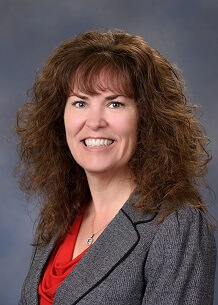 Mary Tillery, loan originator and Sales Manager at Guild Mortgage, in Grants Pass Oregon, has been actively involved in home lending since 1986. She has originated everything from first time homebuyers, to complex construction financing and reverse mortgages, besides all forms of more traditional lending. Mary combines her depth of knowledge with a sincere desire to know, love and serve her clients. She has been teaching home buying classes for 20+ years and loves to share her knowledge with not just her clients, but with people in the industry who are interested in growing.