Vermont 16 Hour 2020-2022 Renewal Cycle: Salesperson Package
16

Hour Course
$

80.00
This package for Vermont real estate agents contains all 16 hours of continuing education needed to renew your license. The course includes four different classes:
Vermont 4 Hour 2020-2022 Renewal Cycle -- Mandatory Course
Vermont 4 Hour Real Estate Concepts
Vermont 4 Hour Real Estate Contracts & Loan Programs
Vermont 4 Hour Real Estate Financing & Title Insurance
The first class is the mandatory core course, and is split into three main areas of study:
Real Estate Transaction Taxes
Real Estate Industry Topics of Interest
Laws, Rules and Court Cases
The Real Estate Transaction Taxes section focuses on Property, Land Gains, Property Transfer, Real Estate Withholding, Housing Capital Gain Exclusions and their special considerations, and exemptions, and the details of Technical Bulletin 34. From there, we move into the Real Estate Industry Topics of Interest section, which includes topics such as core principles of professional and unprofessional conduct, data privacy and security concerns, and best practices for handling multiple offers. The Laws, Rules and Court Cases section focuses on disciplinary actions, various cases of interest to the profession, a summary of Acts passed 2019-2020, and the digitization of municipal land records, among others. At the end of the class, there is a 40-question final exam.
The second class includes four study areas as well: Common Law of Agency, Legal Descriptions, Transfer of Title, and Encumbrances. Across these four areas, a variety of topics are covered, such as the formation of an agency relationship, types of agency, legal descriptions, physical characteristics of land, transfer of title, like-kind exchanges, encumbrances, and liens. At the end of this class, there is a 40-question final exam.
The third class ups the ante with six study areas: Basic Contract Law, Real Estate Contracts, Listing Agreements, Sale Agreements, Loans and Loan Programs, and Government Loan Programs. Topics included in this class are breach of contract, listing agreements, leases, general concepts, types of loans, FHA, and other federal programs. This class includes a 40-question exam.
In the fourth and final class there are four study areas: Lending Laws, Sources of Financing, Financing Documents, and Title Insurance and Escrow. These areas include topics like integrated disclosures, the Truth in Lending Act, the Equal Credit Opportunity Act, financial markets, federal monetary control, mortgages and deeds of trust, title, clouded titles, and closing costs. This class also has a final exam, asking 40 questions.
Throughout the course, there are in-text questions to help test your knowledge as you go. At the end of this package, you'll have completed all of the education needed to renew your salesperson license, all at your own pace!
Show Course ID: 0
Approved By:

Vermont Real Estate Commission
Instructor Bio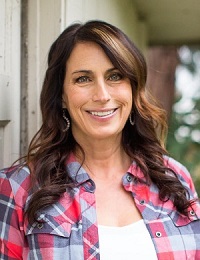 Sheri has been an online instructor for AYPO's Real Estate education classes for over 5 years and is a licensed real estate instructor across the United States.

Growing up in a military family, Sheri became very patriotic, developed an adventurous spirit, and grew passionate about helping people.

In 2005 Sheri became a principal broker and opened Oregon Ranch & Home Real Estate in order to better serve her clients. She received the honor of being ranked #5 in Southern Oregon for dollar volume sold for 2008, during one of the most challenging years the market has seen in decades.

"Common sense, integrity, and a quick wit. These are qualities I admire".