75 Hour New York Real Estate Salesperson Pre License Course
75

Hour Course
$

89.00
This 75 hour course will provide you with all of the required hours needed to sit for a Real Estate Salesperson License in New York. It will also prepare you for your real estate practice!
In the course, we begin by providing an overview of New York licensing laws and regulations. We will discuss the responsibilities that come with licensure, the education requirements, disciplinary procedures, as well as the NAR Code of Ethics.
Then, we'll move onto the topic of agency, which is the essential concept underlying the real estate licensee-client relationship. You'll learn how an agency relationship is formed, what it means, and what is expected of each party in an agency relationship. We'll explain the disclosures which must be made in these relationships, and when they must be made. We pay close attention to the independent contractor relationship that licensees have with their principal broker. There is a whole section with activities that apply the concepts we've presented on agency law as well.
Next, we will move on to discuss some legal issues that come up in real estate transactions. This includes a discussion about estates and interest, liens and easements, and deeds. We discuss how property can be owned by individuals and the various rights that are granted to property owners. As well as a discussion about one of the most important parts of a real estate transaction: the closing. We go over the various expectations of licensees during the closing process.
Next, we discuss the various contracts you will come across in the real estate field, whether for sales or leases. Along with this we will instruct you on how the process of contract preparation works and provide you with some example forms.
We will go over some essential topics about real estate financing, including the primary sources of home financing for buyers, the various types of mortgages/loans available, and the process buyers go through to qualify for a loan. This section also encompasses a discussion regarding the Truth in Lending Act and other various Consumer Credit Protection Acts, as well as predatory lending red flags to look out for.
Next, we discuss various land use regulations that licensees should be aware of. This section defines the difference between public land use controls and private controls, the governments police power to tax land, zoning, and a brief discussion on some of the local agencies involved in land use control.
Then, we move on to discuss some basics on construction and environmental issues. This includes general summaries on major systems such as HVAC, plumbing, and electrical. We also introduce the topic of home warranties and discuss the function of homeowners insurance. The course covers various contemporary and long-standing environmental issues such as mold, lead, termites, and asbestos. We also cover drinking water and private sewage disposal systems.
Next, we move on to discuss the valuation process and the pricing of properties. This includes a discussion on the appraisal process, comparative market analysis, and the various methods used to assign value to different types of property.
Following this we have a section on human rights and Fair Housing laws, both federal and state. We provide an in-depth discussion on types of discrimination and the penalties for licensees who violate any of these laws. The NAR Code of Ethics is brought back in here to address some of these ethical concerns as well.
Our course will then discuss some important real estate mathematics. This includes how to calculate commission payments, interest rates, appreciation, depreciation, and basic mortgage qualifying ratios. Additionally, we discuss various taxes and how these are calculated.
Next, we go over the various municipal agencies that licensees may come into contact with in New York. This includes planning boards, health departments, zoning boards, building departments, and conservations councils, just to name a few.
After this we discuss more property insurance. This section goes more in-depth on the various types of property insurance available, as well as the different level of coverage and what is and is not generally included.
Then, our course discusses another extremely important topic: licensee safety. We provide tips on how licensees can protect themselves at the office, on the road, and during showings. Licensees also have the duty to protect their clients confidential information, which means a discussion on cyber security methods.
Next, we move on to discuss property taxation more in depth, including a more lengthy discussion on calculating property taxes using different methods. We discuss some topics relating specifically to the property tax process in New York, which includes equalization rates, special assessment districts, and tax exemptions. Along with this, we detail the various options available for taxpayers wishing to protest their assessments.
Following this we discuss a realm of housing particularly important to New York licensees, condominiums and cooperatives. Since these are a more specialized form of housing commonly found in New York, we go in depth into the details of getting buyers into these properties and how they differ from traditional real estate sales.
Next, another equally important sector of real estate gets three separate sections, commercial and investment properties. This is a large section of our course, and includes descriptions of the various forms of commercial and investment real estate out there, plus the pros and cons of real estate investing. We introduce risk analysis, a helpful tool licensees can use to assist their clients. Along with this we discuss the other methods used to purchase real estate such as real estate investment trusts and real estate syndication. Another essential aspect of investment real estate we go into depth on is the process of a 1031 exchange and how this can be beneficial to investors.
Finally, we end with discussing mortgage brokerage and property management. Two other areas in the real estate field that licensees may want to explore.
This course includes incremental exams after every section and concludes with a 75-question final exam.
According to NY Real Estate Board rules, the pre-license final exam must be taken at an approved test site. It cannot be completed at home. A list of our approved exam locations with contact information can be found here, and is made available within your course, as well.
Show Course ID: 1
Approved By:

NY DOS - Division of Licensing Services
Instructor Bio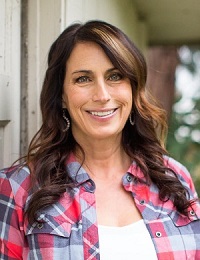 Sheri has been an online instructor for AYPO's Real Estate education classes for over 5 years and is a licensed real estate instructor across the United States.

Growing up in a military family, Sheri became very patriotic, developed an adventurous spirit, and grew passionate about helping people.

In 2005 Sheri became a principal broker and opened Oregon Ranch & Home Real Estate in order to better serve her clients. She received the honor of being ranked #5 in Southern Oregon for dollar volume sold for 2008, during one of the most challenging years the market has seen in decades.

"Common sense, integrity, and a quick wit. These are qualities I admire".