TREC-Approved Real Estate License School
Pass or Don't Pay Guarantee
70.93% of AYPORealEstate students pass the TREC exam on their first try. If you don't pass on your first attempt after taking our class, we will refund your money back to you guaranteed.
Best Price Guarantee
Our base 180-hour Texas real estate pre-license package has the best value of all TREC-approved classes. If you find a cheaper option, we will match that price.
Starting your new career as a Texas real estate agent means you need a top-of-the-line pre-license class. Invest in your future with one of our 180-hour packages. Regardless of your needs, AYPORealEstate has a class that's right for you.
!AYPORealEstate.com! - License #701050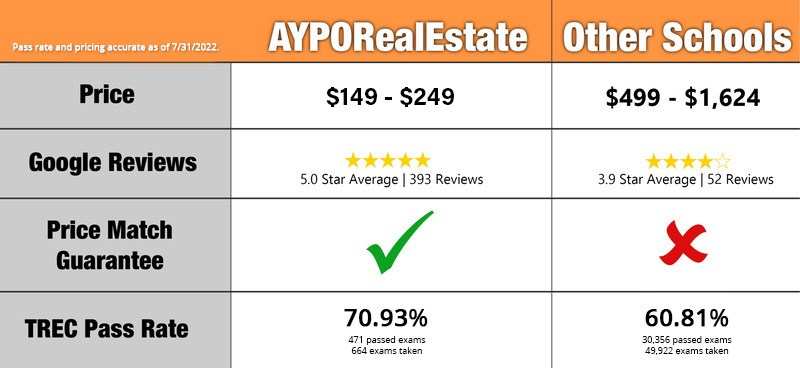 Get your Texas real estate license the easy way.
The Best Customer Support
We have a top notch customer support team. They are available via instant chat, phone or email 7 days a week.
No Expiration
We know that life happens, so choose a school that will work with you to help you start your new career. Your course is available for you when you need it.
No Additional Exam Prep Needed
We don't believe you should have to purchase additional exam prep classes to be prepared for the Texas real estate license exam. Our class includes everything you need to prepare for your new career and pass the exam with ease. Isn't that what a pre-license education class is for?
At Your Pace Online
Yes, this is our company name, but we mean it. Our 180 hour package can be completed at your own pace, and is completely online and mobile friendly.
Student Reviews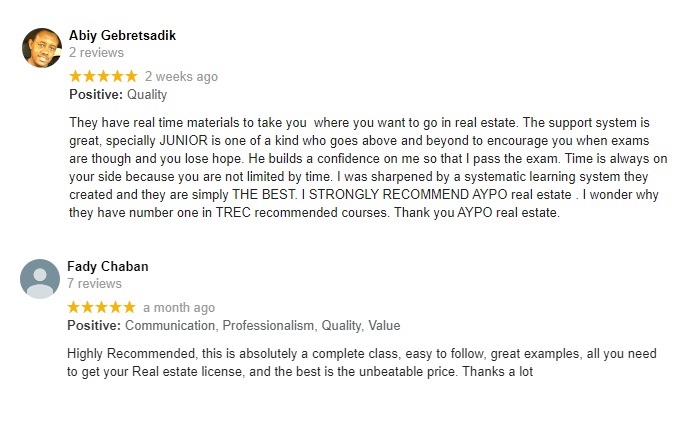 How to Become a Real Estate Agent in Texas
In order to qualify for the official state licensing exam TREC requires 180 total hours of pre-license real estate education be completed. The main topics of required education are broken down as follows:
30 hours on Principles of Real Estate I
30 hours on Principles of Real Estate II
30 hours on Law of Agency
30 hours on Law of Contracts
30 hours on Promulgated Contract Forms
30 hours on Real Estate Finance
The good news? You don't have to sit in a physical classroom for 4+ workweeks to knock your hours out. Instead simply enroll in the AYPORealEstate 180 hour complete package and complete your class At Your Pace Online.
When you're ready to start this process you'll need to file an application for Inactive Real Estate Sales Agent License (Form ID: ISL-9). You can mail in the paper form or send it in online. If you want to do it online, you'll first need to register as a user within the TREC's Online Licensing Service portal.
The Texas Real Estate Commission requires all applicants undergo a background check as a part of the application process. In order to facilitate the background check TREC requires you to have fingerprints on file with the Texas Department of Public Safety (DPS). The DPS uses a company called MorphoTrust to collect fingerprints. MorphoTrust runs the IdentoGO program you'll use to get fingerprinted. Head to the TREC's fingerprinting requirements web page and fill out the brief form to get the IdentoGO ID number you'll need to make sure your fingerprints get attached to your real estate agent application.
It's time to take your Texas real estate exam. PearsonVUE oversees this exam and they charge you a $54 exam fee for their services. To pass, you need to get 56 of the 85 national questions you'll be asked correct, and you'll need to answer 21 of the 40 state questions correctly. PearsonVUE offers a helpful candidate handbook. It includes information about how to prepare and what to expect. Rest assured AYPORealEstate's course is designed to provide you with all the information you need to pass this exam on your very first attempt.
Once you pass your exam, you just have on step left. You need to find an active licensed Texas broker to sponsor you. Once you find your broker, submit your sponsorship request through the TREC's Online Licensing Service portal. As soon as the broker accepts your sponsorship request, the TREC will issue you an active Texas real estate sales agent license.
Class Sample

Individual Pre-License Courses