The Connecticut Real Estate Commission has designated 3 hours of the 12 total that real estate licensees need in order to renew their licenses to be a review of agency law.
This course satisfies mandatory credit for the 2018-2020 license cycle.
Our course begins with an overview of the six topics within agency law that will be discussed in greater detail later. A series of slides provided verbatim by the University of Connecticut will highlight the key takeaways for this course. Statutes and regulations about licensee duties, disclosures, types of agency, agreements, and certain prohibitions when working with clients versus customers will be referenced and explained.
Six forms will be examined page by page with helpful visual cues built in to guide the student through otherwise tedious and confusing language. The goal of these detailed analyses is to make the pathways of when and to whom certain disclosures and agreements should be given more predictable and relatable, so that adhering to state laws can become second nature. There will be plenty of summary to ensure the bigger picture is never lost. Videos and imagery are utilized throughout the course to enhance comprehension for visual and auditory learning styles.
Learn the particular requirements and allowances of dual agency and designated agency in Connecticut. Differentiate between a customer and client. Familiarize yourself with the contracts and disclosures of real estate agency law in the state.
After each lesson, students will be asked a single question about the material. Two incremental quizzes and one final exam will test the student's knowledge. Successful completion of all material will unlock the Certificate necessary for license renewal.
Class Sample
Show Course ID: 1
Approved By:

Connecticut Real Estate Commission
Instructor Bio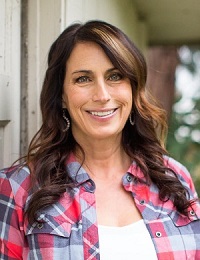 Sheri has been an online instructor for AYPO's Real Estate education classes for over 5 years and is a licensed real estate instructor across the United States.

Growing up in a military family, Sheri became very patriotic, developed an adventurous spirit, and grew passionate about helping people.

In 2005 Sheri became a principal broker and opened Oregon Ranch & Home Real Estate in order to better serve her clients. She received the honor of being ranked #5 in Southern Oregon for dollar volume sold for 2008, during one of the most challenging years the market has seen in decades.

"Common sense, integrity, and a quick wit. These are qualities I admire".