8 Hour Georgia SAFE Comprehensive 2018 MLO Continuing Education Course
This continuing education class for mortgage loan originators is a great choice for the MLO in the state of Georgia. It covers all the requirements for the Georgia Department of Banking and Finance and for the NMLS as well, with 7 hours of topics that include all the required federal content and, additionally, the one hour that is specific to the state of Georgia as well.
The history of mortgage lending in America is explored in the first segment, focusing on the history of the regulations themselves. We will then take you into the portion of the course pertaining to the creation of the SAFE Act as it followed the mortgage crisis of the early 2000s. Part of our class time will be spent exploring the federal agencies that administer and oversee the SAFE Act and provide further oversight for mortgage loan origination in America and the Peach State as well. We will then provide an examination of TILA-RESPA integrated mortgage disclosure and its effect on MLOs.
Your coursework will then continue with a deeper look into ethics for mortgage loan originators, then fair lending practices and consumer protections as well. We will look at the concepts of ethics and fair lending on a broad level as they apply to mortgage loan originators in the field. During this segment we also cover the basics of what can constitute mortgage fraud and how MLOs can help themselves avoid some of these pitfalls. A portion of the course also provides an in-depth examination of lending standards for nontraditional mortgage loans that include Adjustable rate mortgages, subprime and high-cost loans, and reverse mortgages as well.
Finally, we will spend an hour of our class on the mortgage laws and practices of loan origination in the state of Georgia specifically. This will include discussion of required practices and the acts that are prohibited by the state also.
During our course, we will keep you engaged by providing case studies and in-text quizzes so you'll be able to spot-check your knowledge. This will also help prepare you for the final exam that comes at the conclusion of the class.
Show Course ID: 0
Instructor Bio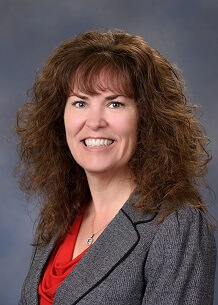 Mary Tillery, loan originator and Sales Manager at Guild Mortgage, in Grants Pass Oregon, has been actively involved in home lending since 1986. She has originated everything from first time homebuyers, to complex construction financing and reverse mortgages, besides all forms of more traditional lending. Mary combines her depth of knowledge with a sincere desire to know, love and serve her clients. She has been teaching home buying classes for 20+ years and loves to share her knowledge with not just her clients, but with people in the industry who are interested in growing.