Kansas 12 Hour Complete CE Package
This package for Kansas real estate licensees covers all of the 12 hours required for license renewal. In the course, we cover a variety of topics required by the Kansas Real Estate Commission, as well as elective topics to round out your continuing education.
The package begins with the required core course, running for a total of 3 hours. The course begins with the Brokerage Relationships in Real Estate Transactions Act, starting with the definitions of the terms we'll use. Then, we cover when the brokerage relationships brochure must be furnished to a prospective client, and go over brokerage agreements between the broker and principal. In addition to these, we cover the minimum requirements of licensees, designated agents, transaction brokerage, and ministerial acts.
The next section is on common violations by licensees, beginning with the complaint process and the penalties for violating Kansas real estate law. Then, we go over the common violations in a variety of areas, such as in the purchase contract, agency agreements, misrepresentation, failure to supervise, and in Fair Housing.
To finish off the course course, we cover advertising, the online services offered by KREC, reporting requirements, and the requirements for working with foreign licensees.
Next, we have the elective course, which counts for 9 hours of credit, and is on the topic of Making the Sale. In the elective course, we cover a variety of areas, such as how to identify the best listings to serve your clients' needs, effectively evaluate a property, explain to customers the difference between appraisals and CMAs, create advertisements which comply with advertising laws, and design a robust and comprehensive advertising plan.
It will also teach you how to explain to clients the different types of loans, help the client determine the loan that will best serve their needs, and help your client to understand government back loans and determine if they qualify. Lastly, you will learn how to draft sales agreements which will protect your clients, understand the requirements for the new integrated mortgage disclosures, and explain the information found on the integrated mortgage disclosures to clients.
Throughout each course are in-text questions, to test your knowledge as you go. Once a course is finished, there is a final exam. After the exam is finished, you'll have completed all of the required continuing education for renewing your license, all at your own pace!
Show Course ID: 0
Approved By:

Kansas Real Estate Commission
Instructor Bio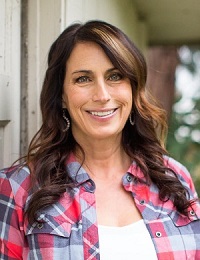 Sheri has been an online instructor for AYPO's Real Estate education classes for over 5 years and is a licensed real estate instructor across the United States.

Growing up in a military family, Sheri became very patriotic, developed an adventurous spirit, and grew passionate about helping people.

In 2005 Sheri became a principal broker and opened Oregon Ranch & Home Real Estate in order to better serve her clients. She received the honor of being ranked #5 in Southern Oregon for dollar volume sold for 2008, during one of the most challenging years the market has seen in decades.

"Common sense, integrity, and a quick wit. These are qualities I admire".