10 Hour SAFE Core and Oregon Law 2022 MLO Package
Licensed and registered mortgage loan originators in Oregon are required to take 10 hours of standard annual renewal education that includes state-specific training, core topics, and an elective.
The state-specific portion includes training on:
The mortgage lending regulatory scheme including the Oregon state and national SAFE Acts
Licensing and renewal requirements for mortgage loan professionals
Mortgage loan origination practice basics and updates
Important disclosures and advertising regulations, and
Some specifically prohibited practices
Four modules make up the core portion, each focusing on a major topic area:
Module 1: Federal Mortgage Laws;
Module 2: Ethics, Fraud, Consumer Protection, and Fair Lending;
Module 3: Non-Traditional Mortgage Lending; and
Module 4: Renovation Mortgage Loans.
The first module of the core portion is about sweeping laws and rules that apply to mortgage loans and mortgage loan originators across the country. A review of the SAFE Act, Regulation Z, ECOA, and the TRID Integrated Mortgage Disclosures make up the bulk of this module.
The second module deals with ethical considerations and consumer protection. A discussion of business ethics and the duties that apply to financial services professionals start us off. Then, topics related to consumer protection and the requirements under the Equal Credit Opportunity Act (ECOA) take center stage. The promotion of fair lending practices are emphasized. After that, the current state of mortgage fraud in the United States is addressed, and we will examine ways to identify and deter different types of mortgage fraud.
The third module of the core portion looks at a variety of non-traditional mortgage loan products and the increased risks and scrutiny that accompany most alternatives to the 30-year fixed rate mortgage loan. We will examine adjustable rate mortgages (ARMs), reverse mortgages, high-cost and higher-priced mortgage loans, counseling requirements, and information on lending standards. Other types of loans and financing options are also discussed, including government programs such as FHA, VA, and USDA loans.
Finally, the fourth module provides information on renovation mortgage loans in general, including what they are and when to use them, with a focus on Fannie Mae HomeStyle® and FHA 203(k) renovation loans.
Recent updates and insights will be provided throughout the package. Each module will be followed by an assessment that consists of a five question quiz and an activity in which students will read a short scenario and then answer questions about the scenario. The state-specific training and the core portion will each have its separate final exam, for a total of two finals in this package.
Show Course ID: 1
Course ID(s):

14676, 14262

Approved By:

NMLS
Instructor Bio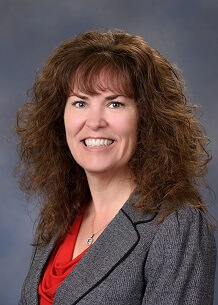 Mary Tillery, loan originator and Sales Manager at Guild Mortgage, in Grants Pass Oregon, has been actively involved in home lending since 1986. She has originated everything from first time homebuyers, to complex construction financing and reverse mortgages, besides all forms of more traditional lending. Mary combines her depth of knowledge with a sincere desire to know, love and serve her clients. She has been teaching home buying classes for 20+ years and loves to share her knowledge with not just her clients, but with people in the industry who are interested in growing.