Pennsylvania 14 Hour Complete CE Package
This 14 hour Pennsylvania complete package satisfies every requirement for renewing your real estate license. The package is split into three separate courses:
Pennsylvania 3 Hour Real Estate Ethics
Pennsylvania 3 Hour Advertising in Real Estate
Pennsylvania 8 Hour Property Management CE
We start off the package with the class on real estate ethics, beginning the course with a discussion of what "ethics" actually means. This includes a look at why ethics matters and some of the terminology related to ethics. From there, we begin to look at some specifics of ethical duties and to whom and how they apply, addressing considerations such as who is a customer and who is a client, and what difference this makes regarding duties and ethics.
Then, we'll wrap up this first section with a series of specific examples of ethical situations and their consequences. Next, we'll dive deep into the history and purpose of the Fair Housing laws, looking at why they exist and how the need for them developed. We'll talk about what a "protected class" is and who belongs to one, as well as the impact of these classes on the real estate profession.
From there, we'll take time to explore the Fair Housing Act, as well as other related Fair Housing laws and regulations. To round out our discussion, we'll look at the real estate professional's best protection from the unforeseen, Errors and Omissions insurance coverage (E&O). We'll see how E&O provides coverage for mistakes that can happen, as well as learn what it won't cover, such as fraud.
The course will end with a final exam of 80 questions that must be passed to complete the course successfully.
The second course is on advertising, and we'll begin with the advertising rules for Pennsylvania, including unauthorized advertising, harassment, team advertising, and panic selling. From there, we move on to the importance of identifiers, which includes the important Pennsylvania Code regulation for including the employing broker's business name on all advertisements.
The next topic we'll cover is internal policies, explaining the benefits of having an internal policy for advertisements. Then, we move to a brief review of the Fair Housing Act, and spend some time explaining it further.
At this point, we shift into covering advertising mediums, such as print, audio and radio, and video and film advertising. Finishing up the first study area, we come to the best practices for online advertising, covering the NAR Code of Ethics on Internet standards, as well as the NAR model for Internet advertising. After that, we explain some social media options and guidelines, and conclude the first study area with an analysis of advertising personal property.
The second study area acts as a general guide to advertising. We start it off by explaining the creation of an advertising plan, briefly covering the first steps to an advertisement plan, as well as creating an identifiable presence. From there we get into developing your professional image, explaining courtesy, professionalism, and first impressions, as well as setting up stationary, working hours, and advertising.
Then, we cover a few methods of promoting your business and services, such as trigger terms, customer search patterns, and supplementing your home listings. The following topic is on public relations, where we cover what public relations is, the importance of image, PR departments, and providing a positive spin.
As the course comes to a close, one of our last topics are on technology issues in advertising and marketing. In it, we explain the Digital Millennium Copyright Act, and utilizing Twitter for your real estate business. Our final topic is on the relations between competitors, explaining the four types of relationships that can develop among competitors.
The course finishes with two quizzes at the end of each study area, each of which presents 15 questions.
The final course is on property management, and it begins with a look at the basics of real property, including distinguishing real property from personal, understanding how to determine if an item is a "fixture" or part of the property, and a review of the "bundle of rights" associated with ownership and possession of real property.
Next, we'll talk about legal descriptions' role and history in the real estate industry, and their indispensability in properly identifying real property in any transaction. We'll follow this with a long look into land use controls, both public and private, and how they affect real property ownership. Plus, we'll take time to study the processes of comprehensive plans, master plans, and zoning, as well as a review of several significant environmental issues.
Our focus then will turn to valuation and taxation of real property, and into the complex world of real estate investment. After that, we'll spend time on the specifics of property management, beginning with the economics of property management, such as pricing factors, supply and demand, economic and market trends, and how to calculate a capitalization rate.
Finally, we'll take a long look at the difficult matter of foreclosure and its impact on real property transactions. This includes discussions of defaults, judicial versus non-judicial foreclosures, and the parties' rights in the foreclosure process.
This course includes four incremental exams, one after each section. Once you've finished with this course, you've finished the package, and will have earned all of the credits you need to renew your real estate license!
Show Course ID: 1
Course ID(s):

RECE005205, RECE004592, RECE004593

Approved By:

Pennsylvania Real Estate Commission
Instructor Bio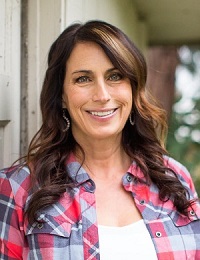 Sheri has been an online instructor for AYPO's Real Estate education classes for over 5 years and is a licensed real estate instructor across the United States.

Growing up in a military family, Sheri became very patriotic, developed an adventurous spirit, and grew passionate about helping people.

In 2005 Sheri became a principal broker and opened Oregon Ranch & Home Real Estate in order to better serve her clients. She received the honor of being ranked #5 in Southern Oregon for dollar volume sold for 2008, during one of the most challenging years the market has seen in decades.

"Common sense, integrity, and a quick wit. These are qualities I admire".