Texas 18 Hour Complete Sales Agent CE Package #2
At Your Pace Online offers this complete CE package to help licensees get renewed and get on with their business!
The course begins with MCE legal updates to keep licensees abreast of the newest changes in real estate regulations, including those pertaining to property management. Then, we'll review disclosures, addendums, and other contract forms that have been modified. After a review of antitrust laws that licensees must observe, we'll touch on the duties of an agent, and the Deceptive Trade Practices Consumer Protection Act.
We'll also talk about the important concept of fair housing - including the history that made fair housing legislation necessary.
The final section of the course will focus on technical aspects of real estate transactions, such as legal descriptions, property encumbrances, title issues, and the recording of title transfers. We'll also compare the different methods used to value real property and the basis for property taxes.
Licensees will also learn about financing options for property purchases, and the influence that the federal government has over the financial markets. We'll review sales agreements in detail, and talk about the different requirements of an agent in a neutral escrow position rather than a single agency situation.
The course will conclude with a section on foreclosure processes and remedies, as well as a 215-question final exam, as mandated by the state.
Show Course ID: 1
Course ID(s):

33197, 33198, 37783, 37057

Approved By:

Texas Real Estate Commission
Instructor Bio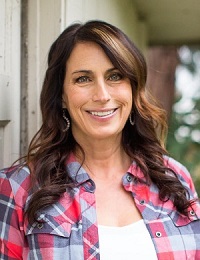 Sheri has been an online instructor for AYPO's Real Estate education classes for over 5 years and is a licensed real estate instructor across the United States.

Growing up in a military family, Sheri became very patriotic, developed an adventurous spirit, and grew passionate about helping people.

In 2005 Sheri became a principal broker and opened Oregon Ranch & Home Real Estate in order to better serve her clients. She received the honor of being ranked #5 in Southern Oregon for dollar volume sold for 2008, during one of the most challenging years the market has seen in decades.

"Common sense, integrity, and a quick wit. These are qualities I admire".
November 29th, 2018 -

Rohollah

Great course, except the last exam was really long. But it was nice in essence to review so much material in single exam.

January 28th, 2019 -

Cynthia

Too Too Too Too Too many questions for final exam! Would not take your course ever again!

October 5th, 2018 -

angela

So many misspellings, typo's. One question you have to pull up a map pic and it wont pull up, I just guessed. Says not available. Needs to have audio so boring.

August 30th, 2018 -

Alice

the navigation is lacking understanding. I had to call a couple of times to get an understanding of where I was and how to navigate to other areas that I had problems with. Having a live chat on the site would be very helpful,. I found communication to be a problem for me.

The 215 questions for the exam need to be proof read.

November 3rd, 2018 -

Samantha

October 26th, 2018 -

Julie

October 11th, 2018 -

Jianye

October 1st, 2018 -

emmanuel

September 27th, 2018 -

Miguel

August 29th, 2018 -

Lindsey

August 18th, 2018 -

Rogelio

August 15th, 2018 -

CARMEN

April 26th, 2018 -

Robert

April 6th, 2018 -

Shareika

September 30th, 2019 -

ASHLEY L

March 9th, 2019 -

Mary Kay

October 31st, 2018 -

John

October 29th, 2018 -

Coby

February 13th, 2019 -

susie

February 10th, 2019 -

Monika

August 27th, 2018 -

Krystal