15 Hour SAFE Core, Utah Law, and Post-License MLO Package
15

Hour Course
$

229.00
The 15 hours of content in this course will fulfill all of the education needed to renew your Utah license for the first time.
This course is broken down into 8 modules. Each module contains:
A section of training
An activity in which students will read a short scenario and then answer questions about the scenario
An assessment that consists of a five question quiz
The first module of the course focuses on federal laws and rules that apply to mortgage loans and mortgage loan originators. The federal regulations addressed in this portion of the course include the SAFE Act and the TILA-RESPA rule.
The second module of the course will cover ethics and consumer protection. Aside from ethics and ethical duties, this portion of the course will also talk about fraud in mortgage lending and fair lending practices.
The third module of the course will discuss non-traditional mortgage loan products like adjustable rate mortgages and reverse mortgages. Not only will this segment examine these types of mortgages, it will also look at some of the regulations governing them.
The final national module explains reverse mortgages, and provides the mortgage loan originator with a solid foundation of knowledge on the subject. Topics covered are what reverse mortgages are, the proceeds that come from them, the regulations that govern them, and the scams to watch out for.
This part of the course will end with a 25 question final exam designed to test students on concepts from across the course.
The second part of the class will focus on Utah laws and regulations, starting with recent changes to the Utah Administrative Code Rules 162-2c and the Utah Residential Mortgage Practices and Licensing Act. This includes the 2018 amendments to House Bill 243. 
The final state law module looks at the Utah High Cost Home Loan Act and Section 8 of the Real Estate Settlement Procedures Act, which prohibits the use of kickbacks or unearned fees. After this is a breakdown of the licensing and disciplinary actions of the last few years.
This part of the course ends with a 15 question final quiz.
Finally, the first section of the Post-License training will start with unique laws and procedures for Utah based MLOs. This section is approximately two and a half hours long, and will take the student/licensee through the necessarily information one slide at a time. Non-disclosure requirements and the differentiation of Utah as a non-community ownership state will be discussed. Then, rules about property tax collection in Utah and relevant information is divided out into multiple smaller sections. What may be most interesting to students/licensees is the next few headers on mortgage products available through various government organizations and how they help consumers. Next comes the importance of understanding proper advertising and marketing standards. And last is a brief overview of the regulatory powers, duties, and authority of the DRE over MLOs. 
In the second module is core definitions and recent rules changes MLOs should review, if not be newly made aware of. The bulk of the second half of this course is on licensing laws and regulations, exemptions to licensure, and how to maintain one's good standing as a licensee. However, there are a few unique topics, such as qualifications for applying to be a primary lending manager, how to submit changes to the Nationwide Multistate Licensing System (NMLS), proper record handling, real world examples of mortgage loan entities (or the mimicry of) who committed crimes against consumers and what the decisions were against them, as well as information about sanctions for licensees who commit similar offenses or violations.
This last part of the course is completed with a final exam consisting of 25 questions randomly drawn from the class.
Show Course ID: 1
Course ID(s):

10751, 10744, 10021

Approved By:

NMLS
Instructor Bio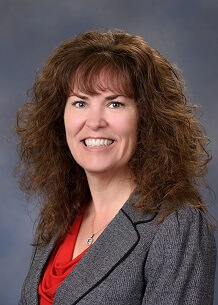 Mary Tillery, loan originator and Sales Manager at Guild Mortgage, in Grants Pass Oregon, has been actively involved in home lending since 1986. She has originated everything from first time homebuyers, to complex construction financing and reverse mortgages, besides all forms of more traditional lending. Mary combines her depth of knowledge with a sincere desire to know, love and serve her clients. She has been teaching home buying classes for 20+ years and loves to share her knowledge with not just her clients, but with people in the industry who are interested in growing.