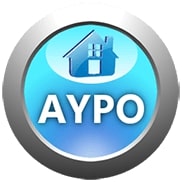 Written by Kacie Goff
In the great state of Texas, if you want to become a licensed real estate agent, you have options. The Texas Real Estate Commission (TREC) doesn't leave you with just one or two choices to complete the necessary education to get and maintain your license.
In fact, it might feel like too many options. If you want to complete the required Texas real estate education hours — whether that's pre-license education to get your license or continuing education to maintain it — where should you turn? With so many approved providers, it can feel daunting to compare courses and costs.
If you're looking for online Texas real estate education, we want you to know why you should choose AYPORealEstate. Based on key factors like exam pass rate, pricing, and reviews, here are some of the top online Texas real estate license schools.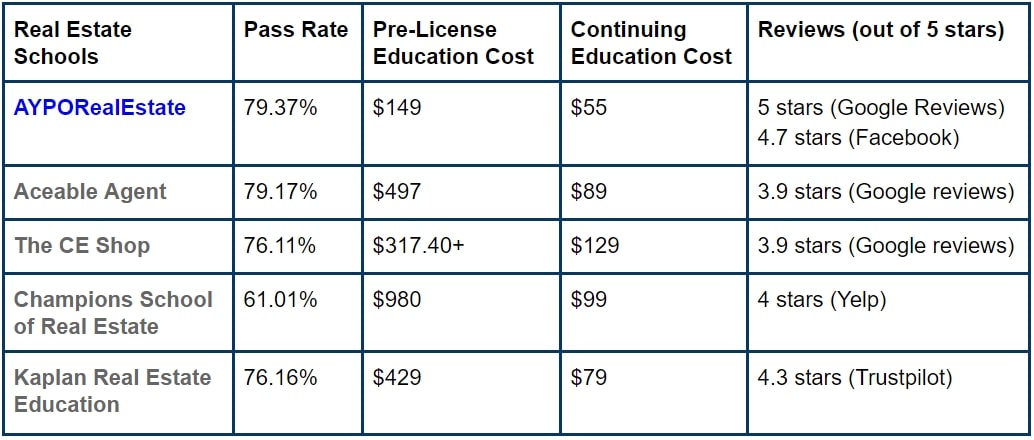 AYPORealEstate Review
You didn't think we'd write this article without including ourselves, did you? The TREC reports that we pass 79.37% of our students through their Texas real estate exam. We offer TREC-approved courses online that allow you to move through the hours you need at your pace.
We're the most affordable TREC-approved real estate education provider on this list. Our 180-hour pre-license package costs just $199 and comes with a "Pass or Don't Pay Guarantee," which is exactly what it sounds like. We also offer a variety of online, self-paced continuing education courses, including an 18-hour package to meet all of your CE requirements per renewal cycle. That package costs $55.
We have 5 stars and an A+ rating with the Better Business Bureau and 4.7 stars from 39 reviews on Facebook.
Aceable Agent Review
Aceable Real Estate School has a 79.17% pass rate.
Aceable Agent offers courses on desktop computers, but they also have a mobile app. They offer both pre-license education and continuing education for Texas real estate professionals.
That said, you pay for that convenience. The Aceable Agent pre-license course costs $497 for the 180 hours you need. Their continuing education courses cost anywhere from $26 for a three-hour course to $89 for the full 18 hours you need per renewal cycle.
People who take their course seem to be pretty happy with Aceable. However, they have 3.9 stars from 53 Google reviews, and it doesn't compare to the 5.0 star google review average that AYPORealEstate has.
The CE Shop Review
The CE Shop passes 76.11% of their students, according to the TREC. They offer both pre-licensing education and continuing education for Texas real estate professionals.
The CE Shop gives you a variety of package options if you're looking for pre-license education, but you'll need to be ready to pay more if you want more support from them. Their base package for 180 hours of pre-license education costs $317.40, but if you want exam prep or a pass guarantee, you'll need to upgrade to their $365.40 package. Their continuing education costs vary depending on the number of hours you decide to take with them, but you'll pay $129 for a full 18-hour Texas real estate continuing education package.
With 3.9 stars from 311 reviews on Google, you can tell the CEshop tries to take care of their students.
Champions School of Real Estate Review
With Champions, you can choose your learning type, whether that's blended (partially in a classroom, partially online), a virtual classroom, or self-paced online learning.
They offer a few different packages for pre-license education. The most affordable way to get 180 hours with Champions School of Real estate costs $980. The least expensive 18-hour continuing education course options cost $99.
All told, you'll pay more if you choose Champions School of Real Estate and their pass rate is the lowest of any education provider on this list. 61.01% of their students pass the Texas real estate exam.
Their reviews are passable. They get 4 stars on Yelp.
Kaplan Real Estate Education Review
Kaplan's pass rate rivals most of the other Texas real estate education providers on this list. The TREC reports that they pass 76.16% of their students through the exam.
Kaplan offers self-paced learning, live online classes, or home study options. The amount you pay for the course will depend on the style you choose. A 180-hour home study pre-license package costs $389, while OnDemand — their self-paced online learning option — costs $429. If you want to take your classes virtually with a live teacher, the cost increases significantly to $889. All told, they're certainly not the cheapest way to get the real estate education you need.
The most affordable and convenient way to get the 18 hours you need with Kaplan Real Estate Education is to choose their OnDemand package, which costs $79.
Kaplan has earned 4.3 stars from 637 reviews on Trustpilot.
Ultimately, finding the right Texas real estate education for you comes down to shopping your options. If you are looking for the cheapest Texas real estate license school available then AYPORealEstate is a sure pick. If you want to choose an online Texas salesperson license school that has the best customer satisfaction then again AYPORealEstate is the right option for you. Finally if having the best exam pass rate is all that matters to you, again AYPORealEstate is the school for you!